MortgageSimplify is an simplified and integrated all-in-one web-based platform that supports both retail and wholesale lending.
MortgageSimplify helps your organization with:
Simplifies your loan process - from lead-loan-completion.
Seamlessly integrate with your existing LOS systems (Encompass, CALYX etc)
Increase operational efficiency by saving time and giving access to key information quickly and real-time
Establish your brand in this competitive world providing tools that will help you differentiate
Staying ahead of competition with simplified marketing tools.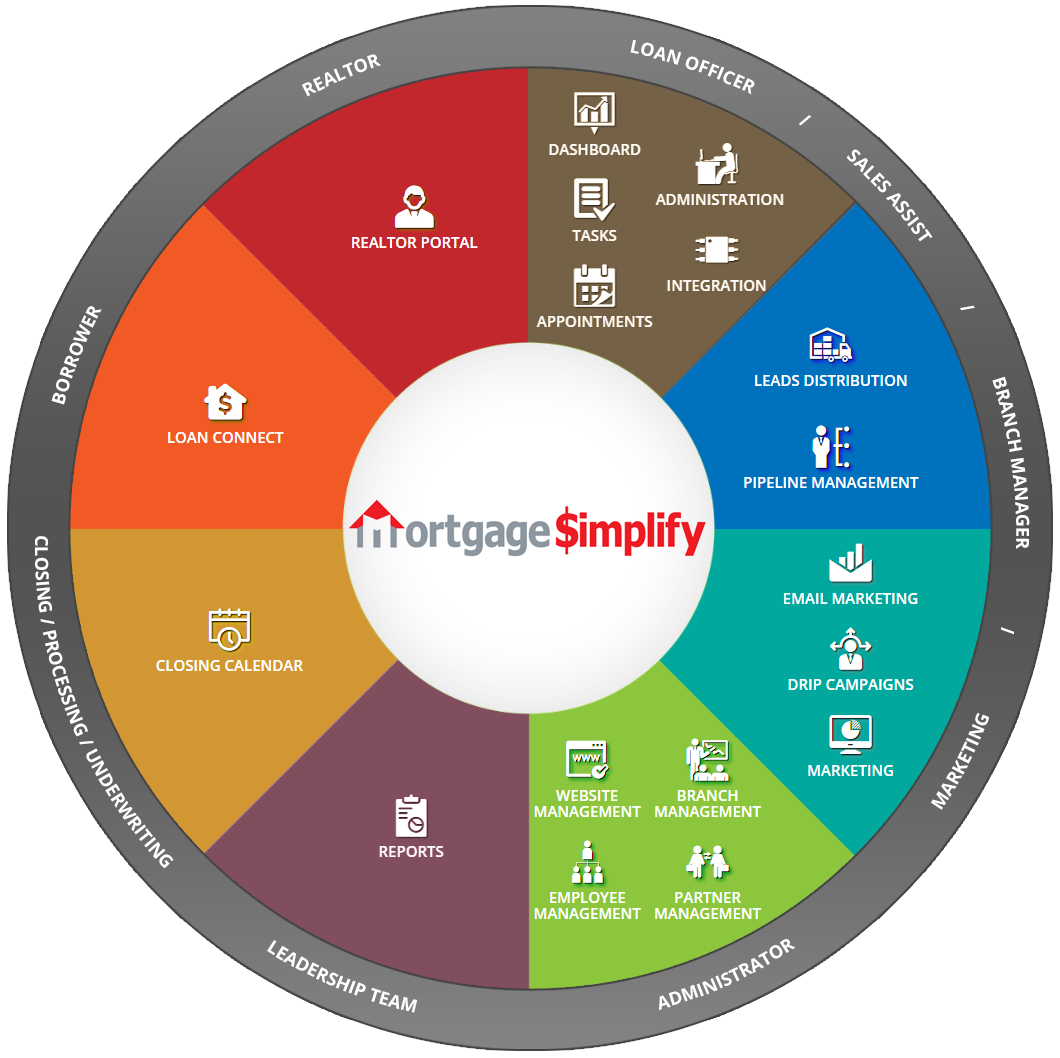 MortgageSimplify platform includes the following tools helping borrowers, loan officers, realtors, processors, underwriters and closers.
Dashboard
Daily / Weekly / Monthly view of all your KPIs at loan officer, branch and company-level.
Integration
Easy setup and configuration to sync lead, loan and partner data between Encompass or other systems.
Leads Distribution
Simplified distribution of leads based on capacity or business rules.
Partner Management
Manage partner data, communication and campaigns.
Email Marketing
Start and manage campaigns with easy template and group creation.
Drip Campaigns
Automate Loan status updates to borrower, realtors and Loan officers at every stage of loan process based on various triggers.
Marketing
Manage marketing flyers with custom Loan officer signature and marketing templates.
Pipeline management
Manage leads effectively. Track lead activity and changes in one place.
Administration
Manage settings and control access levels for all features across the platform.
Loan Connect
Portal for borrowers to track loan status, manage loan documents and manage communication with loan officer, realtor and attorney.
Realtor Portal
Portal for relators to communicate with Loan officers, track loans, upload loan documents, create prequalification letters and create property flyers.
Website Management
Integrate website custom quote, short and long application with CRM or any other leads management system.
Employee Management
Manage employee profile, settings, access levels, marketing , campaign and communication settings.
Branch Management
Manage your branch details, organizational hierarchy and branch-level communications.
Reports
Generate various KPIs and performance reports at loan officer, branch and company-level.
Closing Portal
Portal that helps Processors, Loan Officers and Closers track Loans from Pre-closing stage to Completion.
Tasks & Appointments
Helps you track and stay in touch with your leads.